My Big Break


Note: The bordered images below are links to short videos from my presentation.

It was Summer, 2003, and I was in attendance at the San Diego Comicon. Dylan Williams, the main man behind the Sparkplug publishing empire, had two books up for Eisner Awards. The Eisner's are the comicbook equivalent to the film industry's Oscar's. One of the books, Fleep, by Jason Shiga, was up for both Best Single Issue, and Talent Deserving of Wider Recognition, but Jason was unable or unwilling to attend, so Dylan asked me to give Jason's acceptance speech, should he win. The written rant that Jason provided was a bit caustic, though Jason meant it to be funny, and I didn't think I could pull it off.


The award ceremony was Friday night, and that morning, while showering, I had an epiphany for a new speech (more of a story, really). I ran the new speech by Dylan, and he cautiously and nervously approved of it. That day, I pretended to be Jason (or an inaccurate version of Jason, anyhow), throughout the convention. I was dressed in a dark business suit, with a tie and New Balance running shoes, dark sunglasses, and a black, shaggy hair-do wig. I also tried, with uncertain success, to affect a demeanor of in-your-face introversion.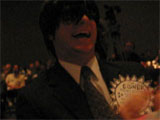 As luck would have it, Jason won for the Talent category, and with arms raised in victory, I marched to the stage to be handed the award by Will Eisner (creator of THE SPIRIT) himself (you'll recall, the award is named "Eisner"), and made my way to the podium. What follows is an approximation of the acceptance speech: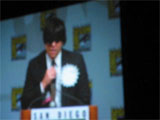 "Thank you. I'm so nervous I could throw up. Jason Shiga couldn't be here tonight, but he did have a speech prepared, and he asked me to give it. It's a story, and I hope you'll indulge me in allowing me to tell it. He also asked me to tell it in the first person, so.... Many of you know that my grandfather was a pilot in the Japanese airforce during World War Two. However, what most of you don't know, in fact, nobody knows, he was one of those legendary pilots who was shot down and landed on an uninhabited Pacific Island, where he lived out the
remainder of his life believing that the war was still going on. However, he did not have to spend those remaining years alone, because the very next day, a lifeboat with two U.S. Army nurses washed ashore, and they eventually gave birth to my mother and my father. And, my mother and father then had me. I was an only child, on that island. My only source of entertainment was kicking cocoanuts up and down the length of the beach. I later came to know this as a sport called Soccer, and eventually learned that it's really Football (note to the reader: I was just babbling at this point, and had lost the thread of my narrative, but was working my way back). But who cares about that, because it's Soccer in America, where it counts, and America rules. Anyhow, one morning, while kicking cocoanuts, a wave came up, and engulfed me, and washed me out to sea. I was able to catch on to a bit of drift wood, and started paddling, kicking my little legs -- I was ten years old, but still my
legs were very short -- kicking my stubby legs, and luckily enough was kicking in the right direction, because eventually I crawled out on the shores of Oakland. There I went to highschool, and attended college, and live there to this day. So, I want to dedicate this award to all of those kids growing up alone on desert islands, because one day you too can make it in the big world of comics. Thank you very much."

It was a hit. I'm still not sure why, quite frankly, but many people really seemed to respond to it, going so far as to not only congratulate me on the win (as if I were Jason), but even thank me for the speech. The ripples of adulation dwindled rather rapidly after the event, though I did garner a mention in Time.com (page 3), and Bookslut (pages 4 through 6). I'm still waiting on those movie deals, though.